My Favorites
Cat and ball on left is very popular but difficult to make with small pieces.
My green head Duck
This 20 by 25 inch Flying Mallard was taken from a magazine picture with a few minor changes
This Pelican was made back in the 70's I do not remember where I got the picture. Maybe I took one of the Bird. They would perch on the end of our fish cleaning table while we worked on filleting fish. If not careful they would grab a piece and fly off. Only sorry I do not have a picture of them sitting there watching us work.
This Bird House Lamp was made for a nurse where I volunteer at Comunity Hospital in Toms River, NJ and was unable to purchase the lamp. In the Emergency parking lot I showed the lamp to a young lady and she said, " I'll take it". Gratifying to say the least.
Original Plaque was by Stained Glass Stylists in Waretown, NJ and is a very nice window piece.
One of my earlier Morton Dragon Fly Kits and is in our living room. Six sections assembled.
How a project is readied for soldering. 29 pieces cut, ground to fit, copper foiled and held in place with horse shoe nails. Preliminary solder, remove from pattern, finish solder under side, finish solder top side, finish solder all edges and add hanger clip. A beautiful Christmas Horn results.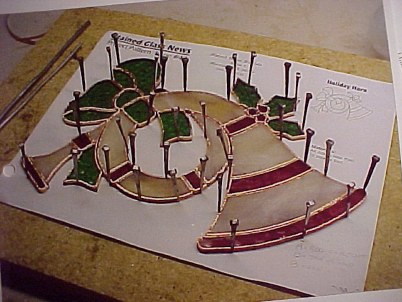 This three part lamp hangs from scrap piece of aluminum that the side piece was cut from for the hydraulic reel shown in Fishing Page 2. It hangs in Richmond, VA. In my son's back porch.
The antique coat rack with Black and White horses, lower right, intrigued me as a child.
This spherical lamp was trickey to assemble the two halves. It hangs in a grandaughters home.